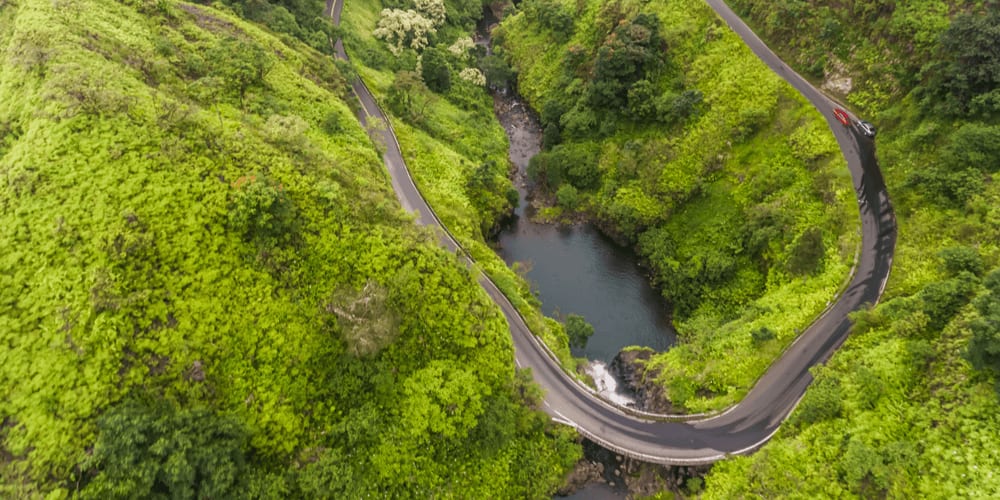 The Hana Highway represents one of the most spectacular routes of the USA and is definitely the most breathtaking Hawaiian drive. 38 miles long, the road from Pauwela to Hana is especially notable for its picturesque coastal views, numerous one-lane bridges, and impressive wayside waterfalls. Surrounded by tropical rainforest and cliffs, extremely narrow and winding, it would become a true challenge for every audacious driver who dares to start a breathtaking adventure!
54 bridges of the Hana Hwy are worth mentioning as a separate point. Many of these steel-and-concrete constructions were built over a century ago, and are still in use! Although it can be scary enough to drive across these narrow and seemingly unreliable bridges, the emotions you get are really worth the risk!
The Hana Highway is probably today's most popular traveler attraction of Maui. With around 620 curves along the way, it constantly reveals unbelievably scenic views that will leave no driver indifferent! Although some waterfalls and other places of interest can lie within private properties, there are still lots of open sights to be seen and relished!
In case you decide to continue the journey, remember that the Hana Highway becomes Hawaii State Road 330, which, in its turn, leads to stunning Ohe'o Pools or the so-called "Seven Sacred Pools" of the Haleakala National Park. Want to know more? Then waste no time and join thousands of drivers who have already experienced the magic of the spectacular route! But before you do, brush up on your driving regulations and road signs by taking one of our Driving Tests!
Become a smarter driver
Test your driving skills now!
START QUIZ